To integrate Mileage Book with Dataløn, simply follow these steps:
1. Log in to the Mileage Book website
2. Select System Setup
3. Select Dataløn
4. Select your start-date for the integration and select integration type CSV file or API

- CSV integration means that you can simply extract a CSV file to be loaded in Danløn
- API integration means that you can transfer all driving to Danløn at the touch of a button

If CSV is selected proceed to item 5
If the API is selected, proceed to step 6
5. Click Connect and the account will automatically be linked to DataLøn's account
It is now possible to go to the Transfer tab and input a CSV-file which can be exported to DataLøn
6. Log into DataLøn's website
7. Select Setup
8. Select Integration for Other Systems


9. Find Mileage Book in DataLøn's integration partners

10. Select Manage


11. Copy the API key and paste it into the access key box in the Mileage Book.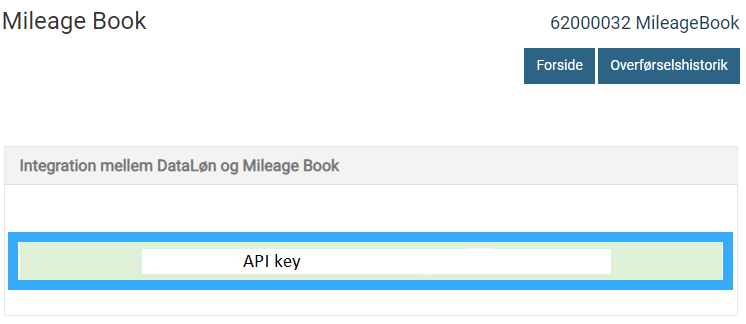 12. Press Test Connection and you will now get a message about the API key working
Your Data Integration API integration is now set up.
Here's how to transfer your running accounts to DataLøn:
(Note: before transferring your trips to DataLøn, it is important that employee numbers vote from Mileage Book to DataLøn - The employee number from Dataløn is entered in Mileage Book under User setup - User profile)
1. Select Transfer to Data Pay
2. Enter a ON DATE - Mileage Book transfers driving time until the specified date
4. Then press "Transfer to Data Pay"
5. The transfer is now ready to be imported into DataLøn - here's how:
Choose Salary

Select Quick Report

Find the employee in the employee list and press import

Select registrations from another system

Select the time interval for the imports to cover
Finish with "Finish import"
If you also want to pay out expenses along with the salary payment, simply follow these steps:
1. Log in to https://www.mileagebook.com/en/
2. Choose System setup.
3. Choose Reciept parameters.
4. Check the box Include expense reports in payroll
Now your company expenses will automatically be transferred alongside your salary.