How to get started tracking mileage
Plug Mileage Book GPS tracker into your car's OBD port


Make sure it has a green, flashing light


You are now ready to register trips


Set up optional schedule for registration


If you have more than one car, you must allocate the unit to the correct car
Here is the OBD port in your car
The OBD port is usually located as shown on the drawing. In some vehicles it can be found elsewhere. The port can also be located behind a panel.
An online search for OBD and your car brand and model may show the exact location.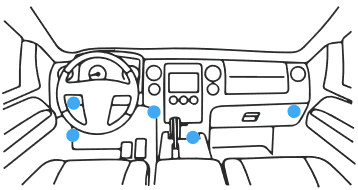 Troubleshooting
There is no green, flashing light on my GPS tracker?
When there is no flashing, green light on the tracker, there is no power to unit. Make sure the unit is correctly mounted in the OBD port. Try to start the car and check the unit after approx. 1 minute.
Trips do not show up in the "Unprocessed" tab on your phone?
Make sure trips are set up to go directly into Book without you processing them. You can change this setting in the system setup.
Log into mileagebook.com > System setup > OBD units
IMPORTANT! Due to delay in the synchronization, you cannot see your trips in the app immediately after finishing them. This is not an error. You can see them later.
More cars?
On the website you can make sure that the unit is allocated the right car.
Log into mileagebook.com --> User setup --> Cars.
Time schedule for registration.
You can create a schedule for when you want your GPS tracker to log your trips. You can activate/deactive the schedule and edit time periods for each weekday on the website.
Web: User setup --> Schedule
App: More --> Settings --> Automatic start-stop
IMEI number.
IMEI is the unique number of the unit. You can see it on the sticker on the GPS tracker and next to the allocated employee/car in the system setup.
Cancellation and return.
You borrow the GPS tracker from Mileage Book. Therefore, it is also your responsibility to return the unit not later than 14 days after the end of your subscription.
Return address:
Mileage Book
Godthåbsvej 4, 1.th.
DK-8600 Silkeborg, Denmark
Att.: Support
Get in touch with us
Write to support@mileagebook or call +45 70 25 11 01.